asakiyume
Did you ever play the authors card game? We had this when I was a kid: 13 authors--a pretty random assortment of 19th-century English and American writers, all men with the exception of Louisa May Alcott--with four works for each author. You play it like you play Go Fish, with the goal being to get as many completed sets of authors' works as possible. Wakanomori and I enjoyed playing it the other day, but I thought it would be fun to make up a set of YA fantasy works.

osprey_archer
is visiting, and we created a set. It's a fairly random assortment, only two male authors (CS Lewis and Lloyd Alexander), and two authors I follow here one LJ/DW (that would be

sartorias
and

pamaladean
). The authors had to have four works or series of works; we tried not to list individual works in a series, and we decided all the works should be fiction.
The original Authors game features portraits of the authors...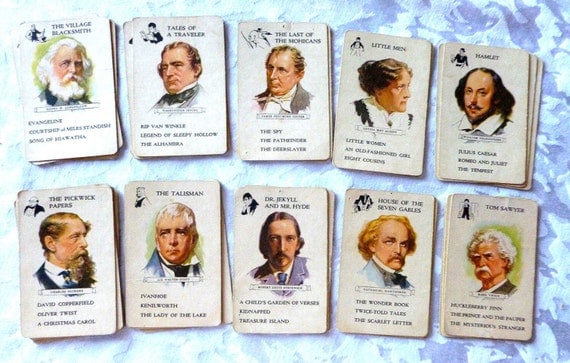 But we are not good at portraiture, so we used symbols for each author.

sartorias
, you're a fan!

pameladean
, you're a sprig of rosemary!
(click through to embiggen)
Just now

wakanomori
,

osprey_archer
, and I played it. Very satisfying!


asakiyume
Out of the corner of my ear I was listening to a Cornell West lecture from the 1990s, and in it he said "witness bearers," but I heard "witness bears," and I know bare-bear-bear wordplay is low-hanging fruit, but here is a witness bear.
In other news, Wakanomori and I are nearly done watching
Person of Interest
. I *really* have liked this show. Not every single everything--I'm not into gangster plotlines--but all the characters, intensely, and the care with which the overall story arc was handled, and the AI, free will, ends-means, creator-created stuff, very much so.


asakiyume
Today in church one of the altar servers was wearing red ballet-slipper-style shoes
with sparkles
.
They were beautiful, and I was thinking, wow, church has come a long way since Hans Christian Andersen's time (different denomination, too, but let's sail by that issue), when the poor protagonist of "The Red Shoes" eventually HAS TO HAVE HER FEET CHOPPED OFF for the sin of indulging in vanity by wearing her red shoes to church. And then, even after she's repented and had her feet cut off, her bloody feet, dancing in the shoes, keep her from entering the church!
I have vivid memories of the illustrations accompanying this story from the version of HCA's fairy tales that we had when I was a kid--particularly the one of Karen, the protagonist, her hair a wild golden tangle, pleading with the executioner to cut off her feet. With much searching (a zillion people have illustrated HCA, including famous people like Edmund Dulac and Arthur Rackham), I found that the edition we had was called
Stories from Hans Christian Andersen
, illustrated by twin sisters, Anne and Janet Grahame Johnstone. They had an overly pretty, slim, stylized way of drawing people that I was fascinated by. I couldn't find the one illustration online, but I did find the one of her going into church all in white... but with the offending red shoes on. Unfortunately the person who took the photo cut off the feet (LOL), so you can't see the shoes, but you can see the glow from them:
(
source
)
If you click on the source link, you can get more of a sense of the illustrators' style. They had a great illustration for "The Wild Swans" of the prince who ends up still with one arm a wing, but I thought you might like this fairly hot (in an overly pretty way) picture from
Tales of Greeks and Trojans
:
(
source
)

Jul. 15th, 2017
06:47 pm


asakiyume
Eve Shi introduce me to this great phrase,
shy like a pigeon
. It means someone who seems gregarious, but flies off if you get too close. I really understand that! I can be really sociable so long as there's a certain distance built in, like with .... drumroll .... social media!
1
Specifically, the sort of interaction that you can get on LJ/DW. You can share all sorts of thoughts, chat, enthuse about whatever it is you want to enthuse about, even give or receive comfort and consolation--but you can also retreat, and by and large people won't mind too much. It reminds me of something

sovay
said about a writer's characterization, that his characters were
"on the whole are drawn more vividly than deeply."
It's that type of friendship, vivid but not deep.
Of course you can *make* it deep. I bet anyone who's been online for more than a few years has had serious, lasting friendships blossom from their online interactions. I know several people who've gotten married to people they met online. But when it gets deep, most probably you're no longer interacting solely through LJ/DW. Probably you're meeting up in person, sending private messages or emails, maybe exchanging paper letters, maybe phoning--you're getting to know the person through more than one medium.
But once a friendship is a deep one, you can't convert it back into a shallow one. You can drift apart as friends--that happens--but you'll never not have shared a deep friendship. And if you have a social-media space made up of people who are mainly close friends, that's very different from a social-media space made up of strangers and acquaintances. Speaking for myself (but I'm willing to bet this is true for many people), it changes how you interact. You have responsibilities in a way you don't if you're interacting with strangers and acquaintances.
Musing on the nature of online interactions and in-the-flesh interactions, and what friendship is, etc. etc., has gradually led me to the conclusion that I haven't been a very good real-life friend to very many people. I **haven't** done that thing that gets talked about in every movie and every essay on friendship: I haven't been there as a supportive presence for people in hard times. Not very much. Part of me wants to say that it took my mother dying, and having to be there for my dad, for me to understand what being there for someone really means. Kind of late in life to learn that stuff.
But I'm trying harder now. Still in a very limited way, because, see above, shy like a pigeon. (Or maybe I shouldn't blame shyness. Maybe it's just selfishness.)
I thought I might segue into talking about how being in a social-media space composed of actual friends lends itself to certain types of posts and inhibits others, but as I think about it more, I think a lot of that comes down to personal styles--it's actually hard to generalize on. Maybe what I could talk about would be my
own
feelings on that--but another time.
1
And not just social media. Acquaintanceship through some shared activity can be like this; my interactions with people in my book group feels similar. Warm, friendly, but not too deep.


asakiyume
We didn't set out with any plan do anything like a boat tour, and when we saw a brochure in a visitors' center somewhere, featuring a puffin wearing a captain's hat and a promise of seeing puffins, we thought it would be fun, but still it wasn't something we were actually planning on doing.
( conversation, legends, and bird information under the cut )
My attempts at photographing puffins, razorsbills, bald eagles, black guillmonts ("white wing patches, and sexy red legs" was how Ian taught us to recognize them), and cormorants hanging their wings to drain and dry were hopeless, so I'll post a couple of the Van Schaiks' own photos:
puffins!
razorbills
... and share my sketch of some seals instead. The scribbled note says "Mark said, when I said that they have dog faces, that his dad said the males have dog faces and the females have horse faces."
1
I can't find any corroboration for this legend elsewhere, and I may have mangled it--but anyway, it makes a good story. (The closest thing I find is the remarks of John MacGregor, published in 1828, remarking about fishermen on the other side of Cape Breton, that they
are Acadian French, who live by pursuing cod, herring, and seal fisheries, together with wrecking; at which last occupation, in consequence of the frequent shipwrecks about the entrance of the Gulf during the spring and fall, for several years, they are as expert as the Bermudians, or the people of the Bahamas.