asakiyume
I'm doing a little bit of writing with some adult learners (there may be some high school students in this class as well)--just ten minutes or so. I don't have any pedagogical reason to believe this is beneficial, except for believing that when people have pleasant experiences doing something, then that thing becomes less daunting. In other words, maybe, if the students enjoy this time writing, they'll feel more able to tackle the sort of writing you need to do to clear the hurdles in front of them. But even if that's not the case, I think people deserve a chance and a place to try out writing, just for its own sake and their own sake. So.
My first prompt for them was this quote from Fred Rogers: "You can grow ideas in the garden of your mind," which I recalled from this
autotuned song
made from that and other remarks of his.
I showed them some gardens.
A garden in Holyoke, created by "self-proclaimed plant geeks":
(Source
)
Randyland, the garden created by Randy Gilson, a waiter and son of a single mom, in Pittsburgh, PA:
(
Source
)
The magic gardens of Isaiah Zagar in Philadelphia:
(
Source
)
The blooming Cadillacs at the Cadillac ranch in Amarillo, Texas:
(Source is
this Google image
, whose original location is given as
this video.
)
The famous Zen garden at Ryōanji, in Kyoto, Japan:
(
Source
)
And I said, even when you think a place is barren, nothing growing, life pushes through, like in this parking lot in Boston:
(
Source
)
And then I asked them--what's growing in the garden of your mind? Several people wrote that they felt like the parking lot and talked about worries, but one wrote about a painting she's planning, and another compared his mind to a potato (and gave me a diagram to show it growing). It was wonderful.
What's growing in the garden of *your* mind, these days?


asakiyume
If you're going to meet an actual hero, a freedom fighter and former political prisoner who helped birth a new nation--that's YOU, Mr. Xanana Gusmão--you would do well not to be 45 minutes late. Alas, Google maps misled me about how long it would take me to drive from my house to the Pell Center, in Newport, Rhode Island, where Mr. Gusmão and a panel of distinguished experts were going to be talking about the future of Timor-Leste. And then I made a wrong turn at the very end and got lost. By the time I was driving down Bellevue Avenue, past RIDONCULOUS mansions, I was more than a half-hour late. But damn it! I did not drive all that way just to ... go home again.
Finally I found the place.
A guy waiting in a bus kitted out like a trolley told me yes, this was it.
The talk was happening in a room with gilded Baroque-style accents.
Source
( between entering and **the kiss** )
I hung back in the hallway, hoping to somehow say something, anything, to Xanana. I knew I wouldn't really ask him
if he could shapeshift
, or if he'd like to collaborate with me in writing a story based on
this experience
, and I didn't want to just gush that I was a fan, but I wanted to say **something**.
And I got my chance. He walked by and saw my expectant face and stopped and smiled at me. And I started blurting out that one small thing he'd done that made me admire him was
get out and direct traffic one day in Dili
, when there was a traffic jam. I think I said more presidents should do things like that. But before I got two words out, he had
lifted my hand to his lips and kissed it,
all the while looking at me with an expression of friendly affection.
I can see why people would die for him--or better yet, live and struggle for him. He was EVERY BIT as charismatic as I thought he would be, and then some.
source

Sep. 16th, 2017
09:26 pm


asakiyume
I was driving to the post office, and I noticed that the car in front of me had a sticker of Garnet, from
Steven Universe
, on the back of the car. Also, the car was from out of state.
Garnet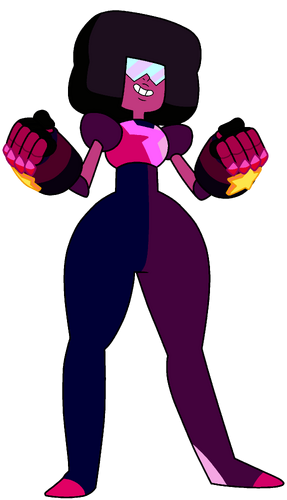 I haven't watched much
Steven Universe
, but I've really enjoyed the few episodes I've seen. I felt warmly toward that car. Then, coincidence of coincidences, it turned into the post office parking lot too. "Wow, someone from New York is going to the post office here in B'town," I thought, and also, "I can tell them how much I like their Garnet sticker." I followed the driver into the post office. They got in line; I had to fill out a customs form, so I was standing nearby.
"Excuse me," I said.
"Oh!" they said, startled, and made to get out of my way.
"No, no--you're fine! I just wanted to say, I really like your Garnet sticker, on your car."
"Oh!" they said again, but a pleased and happy one this time. "Thanks!"
Then it was their turn at the counter. On their way out they smiled at me and said goodbye.
I had no clue what gender, if any, they were, but they inhabited their skin and their space with a pleasant, easy charm. They looked more or less like this: